Managing Personal Contacts on iOS
This matter has arisen due in part to some work that we are doing with a client where it is prohibited to synchronize the Microsoft Outlook App Contacts from their Organization mailbox to the Personal Contacts on their iPhone (and Androids) due to Intune App Protection Policies
This is not a great experience for end users that have been syncing their email and obviously Calendar & Contacts previously to the native iOS apps because now when they receive a phone call or text message they cannot easily identify who it is from. Likewise when they want to make a call or compose a text message they cannot easily find the recipient now.
We've also previously had questions about duplicate and disappearing contacts
So this problem is twofold.
Where are Contacts saved by default
Users have been happily creating and saving Contacts previously without paying too much attention to where they were being saved. This is because by default iOS doesn't prompt or ask you where you want it saved.

Many users, like me, probably have multiple mail accounts attached to their device. Maybe they have their iCloud account plus a Hotmail, Gmail and Work account.
When you first set these accounts up you have most likely not thought to only sync email, but instead just accepted the default options that sync Mail, Contacts, Calendar, Reminders, Notes.

What you ideally needed to do was perform a second step and go to the Contacts options and select the "Default Account" where Contacts should be saved.

When I initially came across this problem, this did cause me some issues in the beginning as I had been syncing multiple accounts. As expected at that time I was seeing duplicates. So I set about once and for all dealing with this. I exported all the Contacts, manipulated them, then I de-selected Contacts from each account and managed them all in iCloud.

Remediating Contacts on an iOS device:
One such iOS App I use for helping with sorting out Contacts is "My Contacts Backup Pro" I offer this with no recommendations or warranties: https://apps.apple.com/gb/app/my-contacts-backup-pro/id466388978
This utility can do backup to CSV or VCF and email it to yourself or upload to Dropbox etc. It can help with Duplicate Contacts and also do restore from VCF and even Remove All Contacts!. Any combination of working with this tool should get you a desired result.
Restoring Contacts that were removed via a Work Compliance policy

Now that corporate synchronisation of Contacts from the Outlook App is prohibited, how to you populate the native phone app?
Problem 1 – Single Account for Contacts
For me, mail accounts come and go, but my iCloud account is always a constant. I also use it on a spare iPhone and iPad, but no email on those devices. And when I upgrade or replace my device I get those contacts back immediately I sign in. So, as such I configure ONLY my iCloud account to sync Contacts.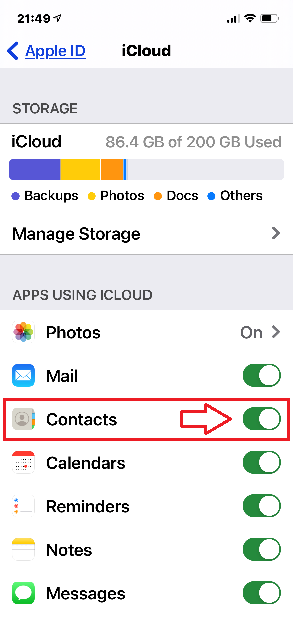 and deselect all other Accounts: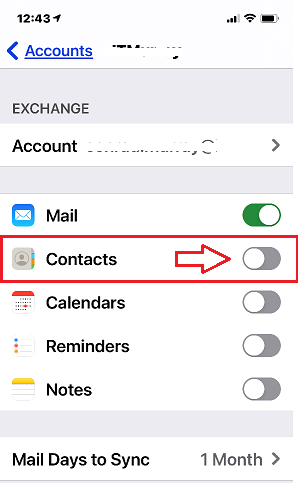 This is then set to my default app for Contacts.
On a personal note I do have Contacts stored in my other mailboxes for the purposes of maintaining email addresses and aiding with Junk mail.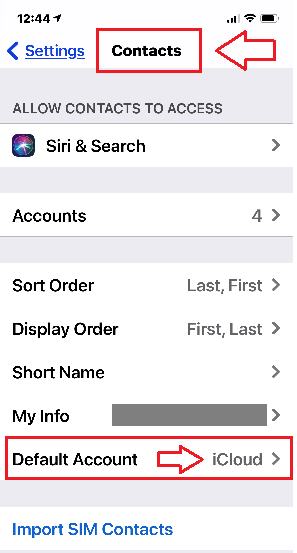 If you don't chose iCloud for Contacts, you might elect to choose only say Hotmail, which makes importing Contacts in problem 2 slightly easier.
Problem 2 – Restore Contacts to iOS removed by corporate policy
To be clear, we do not advocate or condone bypassing corporate compliance and Data Leakage Prevention measures. If you organization has prohibited storing work information on your devices, then you must at all times remain compliant, or risk being in a data protection breach for yourself or your organization, for which the penalties can be significant and severe. However, if over time you have simply been saving family and friends details into your work mailbox Contacts for ease, then you probably wish to separate them out and have those on your device.
From your Desktop Outlook you can go to File -> Open & Export. Choose Import/Export and then export your Contacts Folder to a CSV or PST.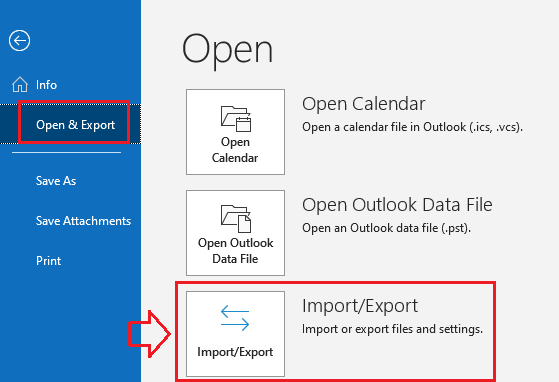 If you choose PST you can then open this in Outlook, delete all the Work Contacts, then Import the PST into one of your Personal Mailboxes. These will then sync down to your device.
If you want to restore the Contacts into iCloud that's a bit trickier. iCloud only supports a VCF file. When you export contacts from Outlook, whilst there is a VCF option, that is for a single contact at a time. (This is the option Forward as a Business Card), so you need to find a tool that converts CSV to VCF. There are many such tools around, but what you need is a tool that converts you Contacts CSV(s) ant outputs to a single VCF file that contains multiple entries. If you really want to go around the houses, you can import the CSV into Gmail and Export as a VCF.
Import VCF to iCloud
Once you have the single VCF file you can import via https://www.icloud.com/contacts/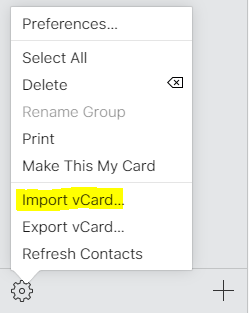 iTunes
You can in fact configure iTunes to sync your Outlook Contacts to your device as well.
Connect your iOS device to your Workstation, then click the device and choose Info then enable "Sync Contacts with". However, if you are already syncing Contacts over the air on another account, this option won't be available.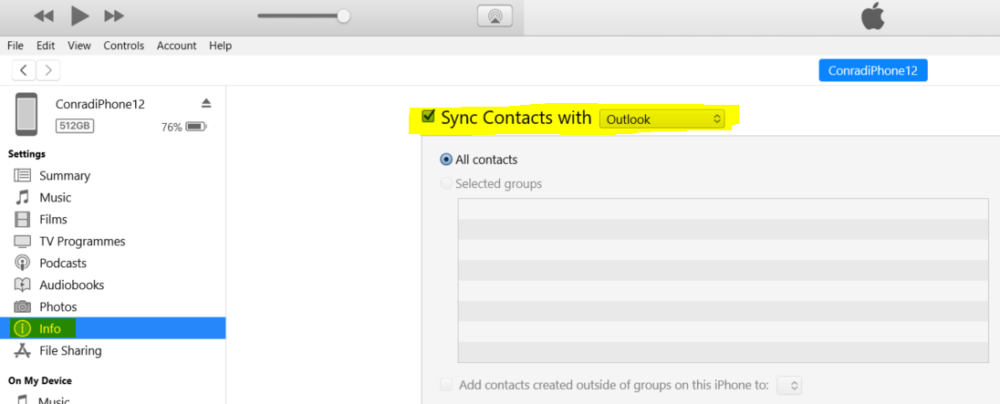 Other Tools
vCardwizard
Here is a tool that you could consider. I offer this with no recommendations or warranties but it could potentially solve your export and import issues in one go: vCardWizard : http://www.vcardwizard.com/ because it allows for Multiple Source and Destination Options.
vCardWizard – Select Source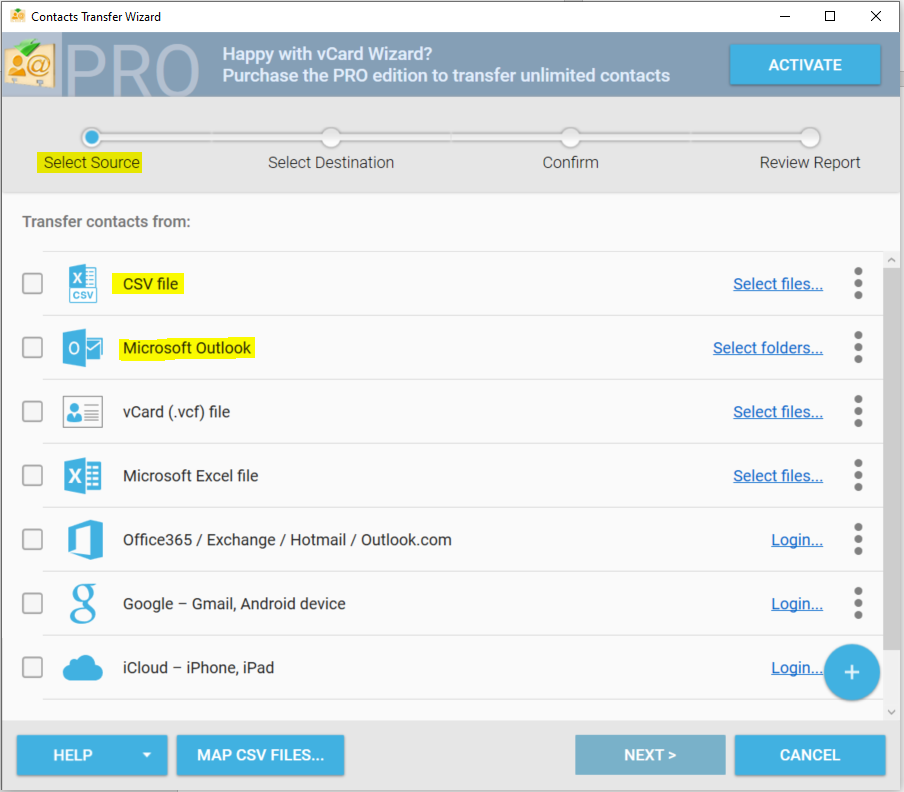 vCardWizard – Select Destination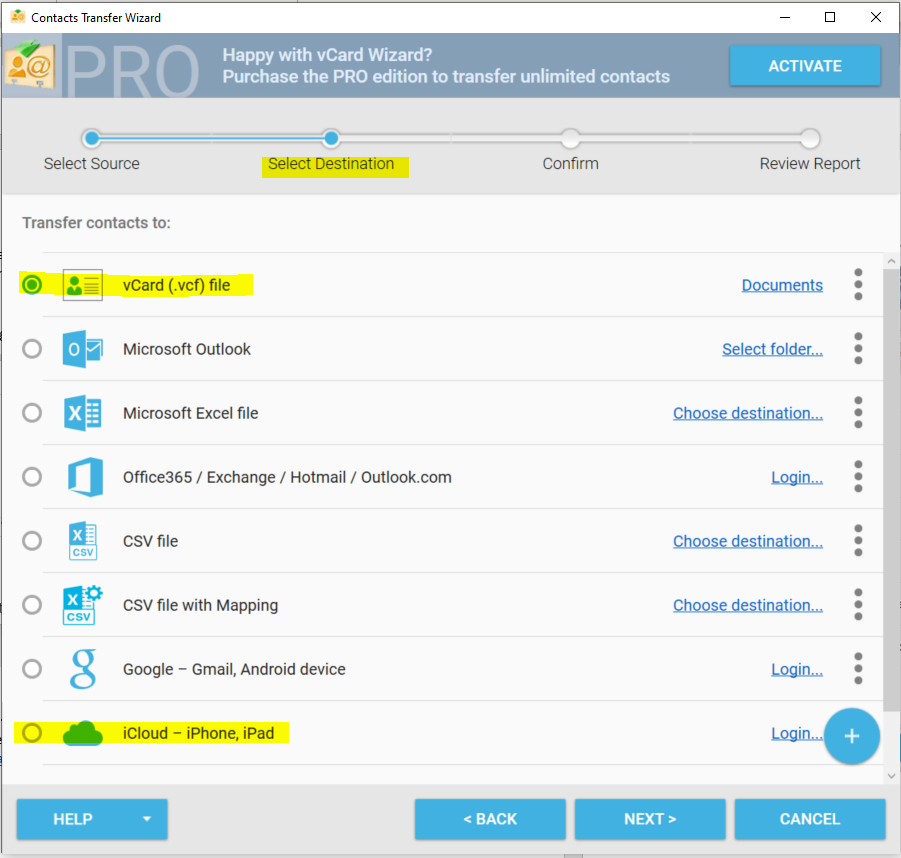 It even has an Outlook AddIn directly

Hopefully this gives you some insights and assistance or ideas to resolve your own issues. Sorry, no Android version just yet, hopefully in the near future!